Not only should each project reflect its environment, but it should also enhance it.
When we were presented with the opportunity to design a Maritime Escape on the Connecticut coastline of Fairfield Beach, we knew that the location–which initially presented challenges–was no match for these beachfront quarters. The narrow, deep and high flood risks were noted and eradicated with smart architecture. A marriage of shingle-style and steamship, this structure stands proudly on its own signature section of the Sound.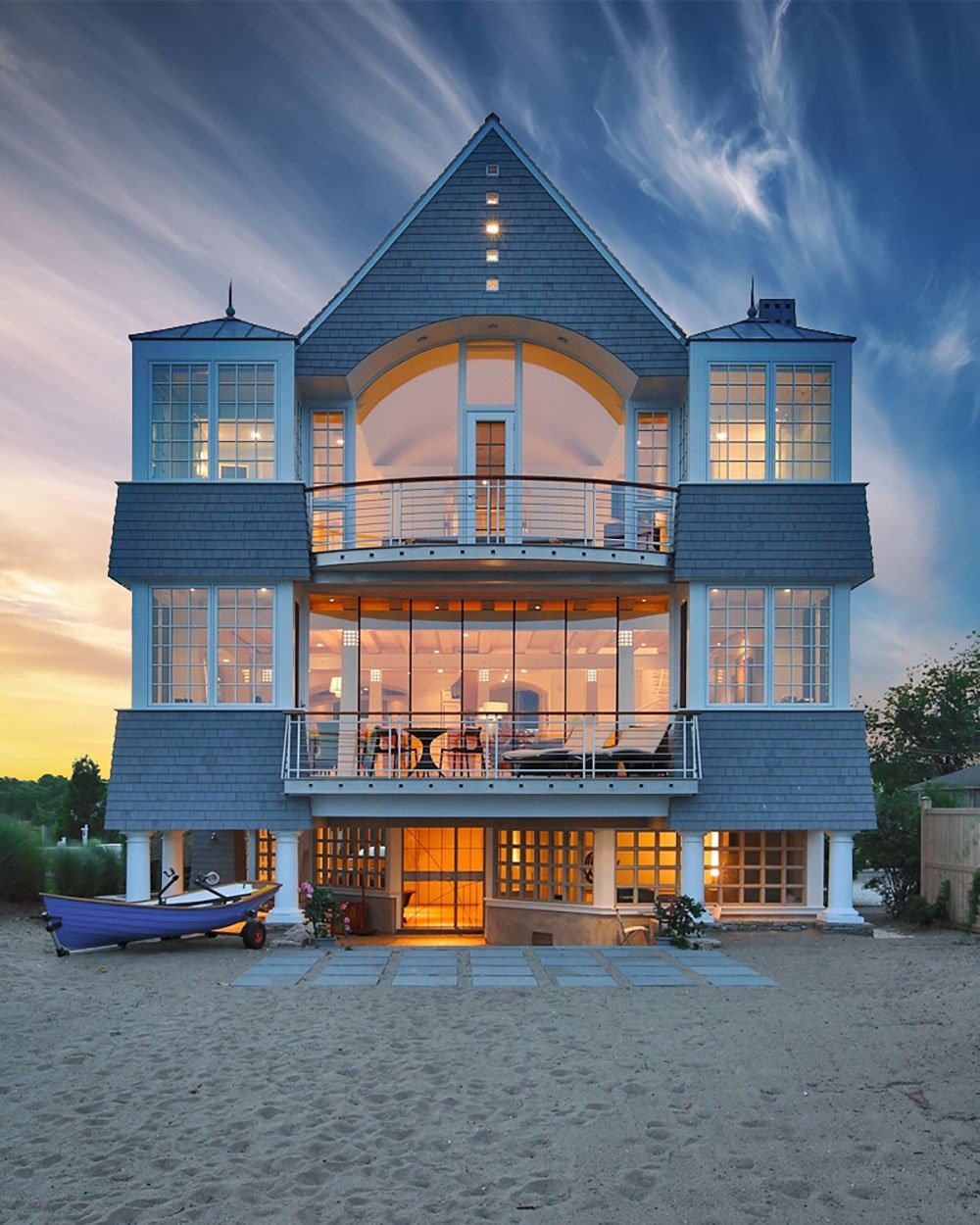 Our Inspiration
Fairfield, Connecticut boasts five miles of languid coastline on the Long Island Sound, punctuated by quaint beach towns and eclectic coastal abodes. This structure was to simultaneously honor its natural surroundings while displaying the homeowner's unique style and taste. Therefore, we agreed on an easy combination of shingle-style architecture for the exterior—a classic New England representation of leisure and luxury—and steamship architecture for the interiors, demarcated by the elaborate swooping and aerodynamic structure of (you guessed it) steamships.
From style, to color, to shape, each room was to be a nod to the nautical.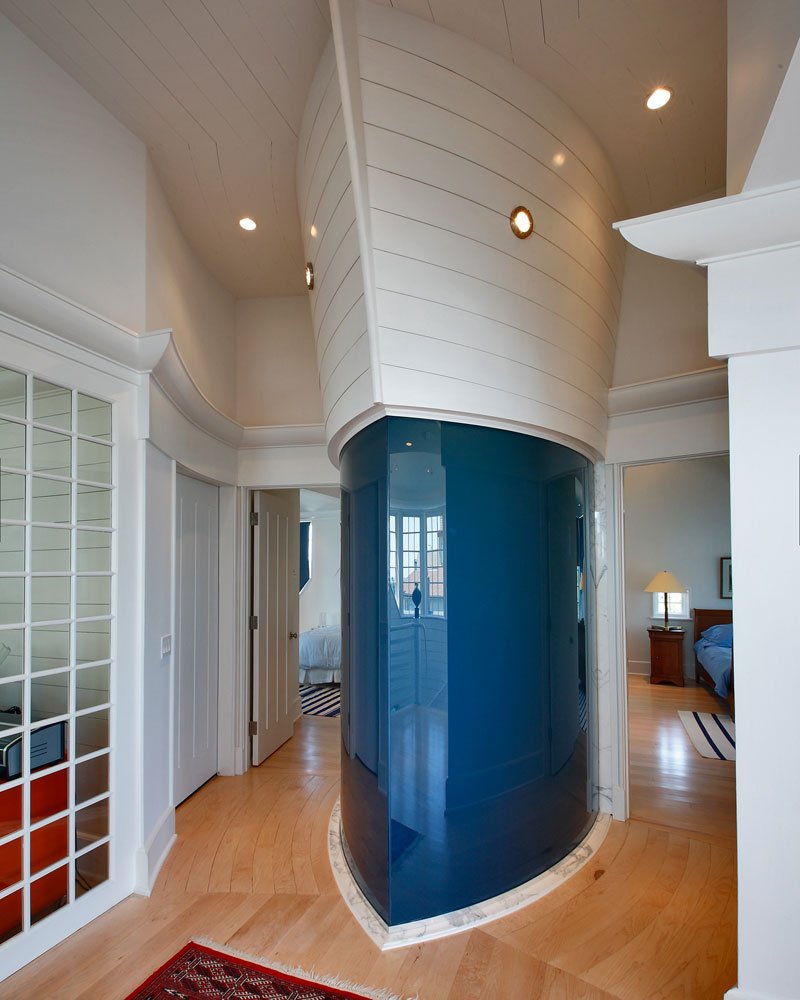 Our Design
When we completed this project, we accomplished what we started out to achieve: a coastal escape. On the exterior, the structure is defined by a simple singular gambrel roof that does not overwhelm its gray, ghostly profile. The short end of the house that faces the Long Island Sound is all glass–much of it frameless, silicone panels. Natural light and a clear view of the water was a priority component of the design around which everything else was built–a front-row seat to the shore.
Moving into the interior, you are met with spaces that resemble, in form and feeling, a steamship. Walls converge in the shape of a bow; the stairway spirals and swoops like the faint beginnings of a whirlpool. Rounded ceilings and walls justify the more angular features of the steamship. The living room, which is dropped two steps, clears unobstructed beach and water views to complete this Captain's Getaway.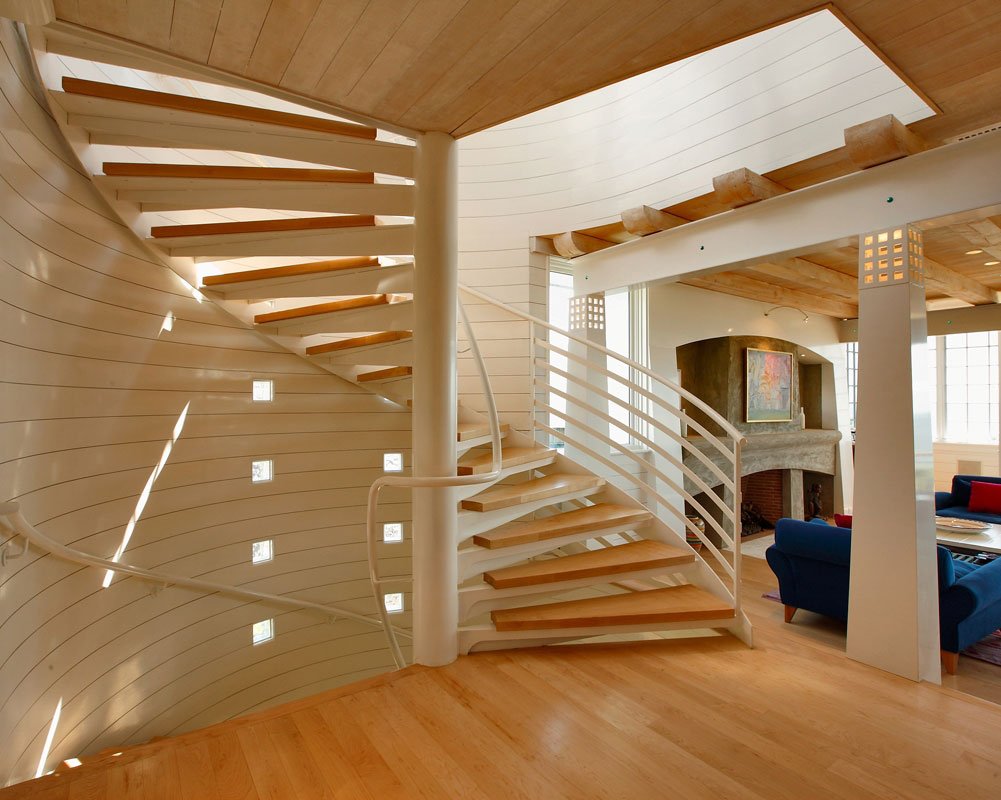 Our Philosophy
In this oceanfront home, everything about the detailing and imagery suggests the sea. The child of house and boat, this structure respects and draws inspiration from the environment around it, a philosophy we carry to every project. Any edifice that sits on the coast that does not mimic its maritime surroundings does a disservice to it. Not only should each project reflect its environment, but it should also enhance it. That's how you achieve a "Total Work of Art."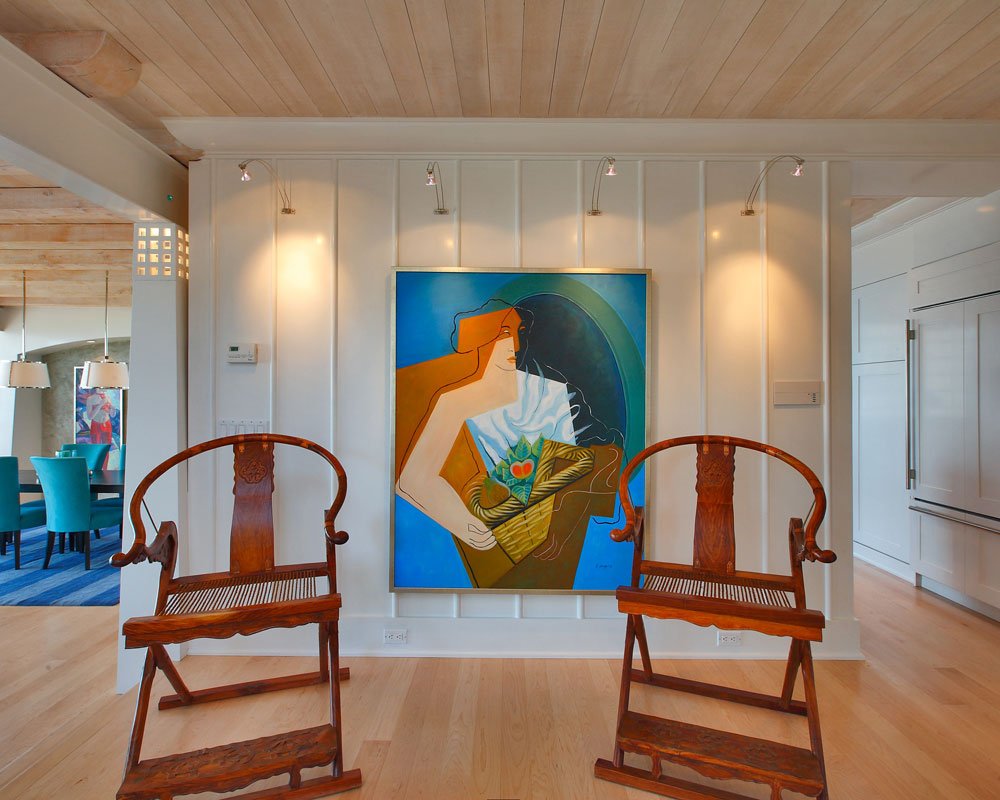 Bring Your Vision to Life with Christopher Pagliaro Architects
Our team uses concepts of place, light and texture to create boundary-breaking homes that are born out of their natural landscape. To learn more about our award-winning firm and schedule a consultation, call us at 203.838.5517 or fill out the form below.
Want to Learn More About Waterfront Architecture?
Hallmark of a Christopher Pagliaro Architects project is the marriage of the structure and site to create a sense of place. To get started on your waterfront home project, get in touch with our team today.