Architects are trained to materialize your grand visions for a home into a reality.
From the big-picture layout to the individual details, a custom build is intentionally designed to suit the wants and needs of the homeowner. 
Custom builds are a blank slate; a chance to reimagine your living space based on personal expression. It's no surprise, then, that custom builds can also feel overwhelming to dive head first into–the blank slate in front of you is teeming with potential, but offers little to no guidance or inspiration. 
This is where architects–experts in creating "delight"–enter the picture. Think of architects as the professionals who can tease out your greatest ideas and translate your priority list into a visual representation of your future home; they're properly trained to materialize your grand visions for a home into a reality. Below, we discuss projects in our portfolio that represent the grand possibilities of home remodels–they may even provide you with a "lightbulb" moment for your own custom-build plans. 
Garage-Turned-Indoor Sports Court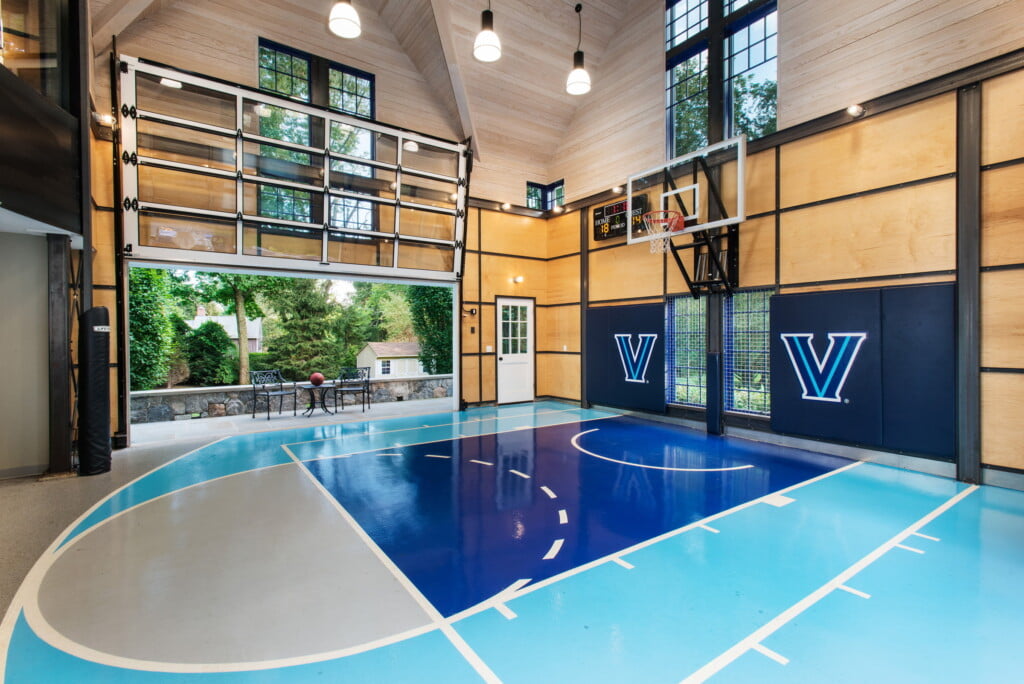 For an avid Villanova basketball fan, we transformed their garage into an indoor sports court. Brandishing the university's logo and colors, this space was completely custom-tailored to the wishes of the client. On the other side of the garage is the "man cave" where the homeowner can host game viewings and enjoy the home bar.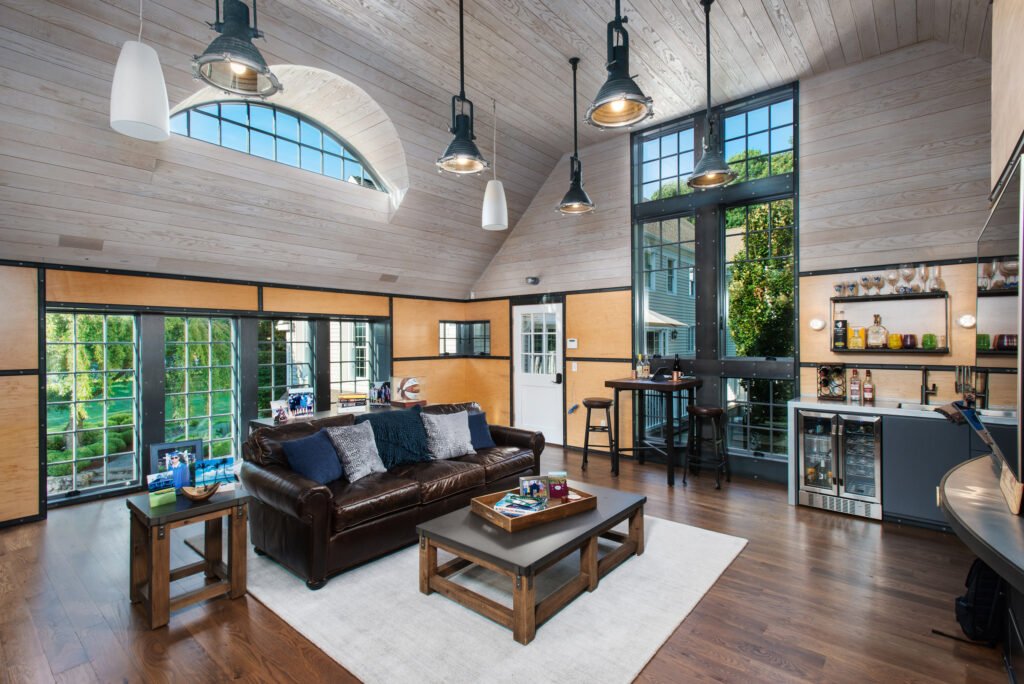 When we discuss making a home truly yours, this is a quintessential example. A space designed for entertainment, personalized to the homeowner's interests, and enjoyed for years to come–a shining reminder that custom homes give you the freedom to think outside the box and beyond the highest-trafficked rooms like the kitchen, living room, or main bathroom.
Coastal Elements in Fairfield Beach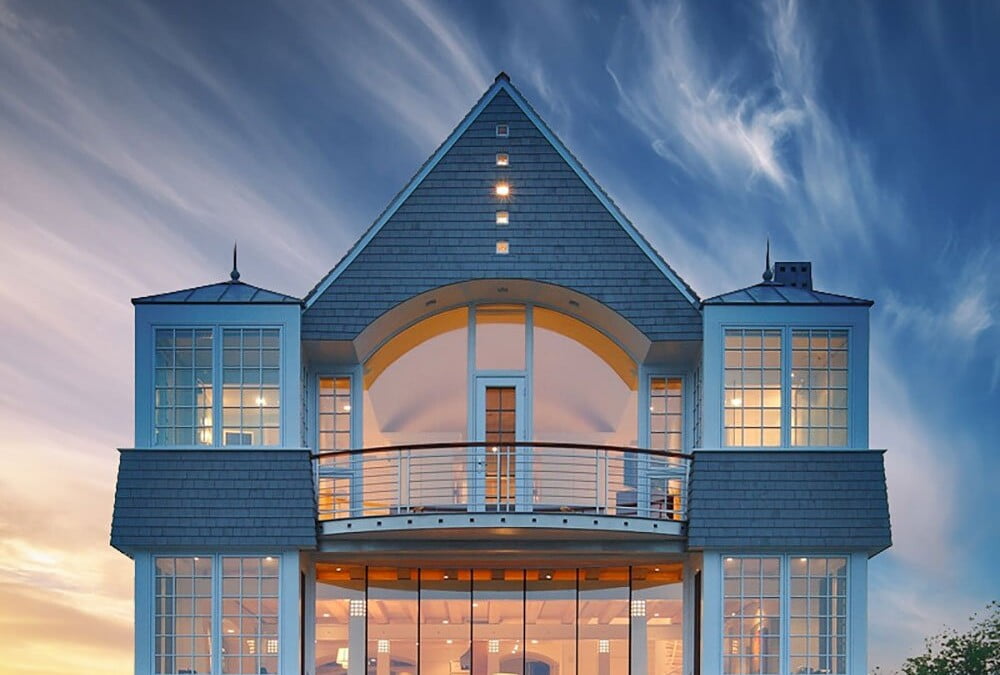 This Fairfield Beach project was to be an extension of the natural environment surrounding it. Representative of the coast lapping just beyond this maritime mansion, the interiors reflect the waterfront. The exterior of the home faintly recalls that of a ship, and when you enter the home the coastal callings are made even more apparent–a hallway divide fashioned in the form of a ship's bow, a sloping spiral staircase that resembles the fluid nature of an ocean's wave, floors the shade of sand.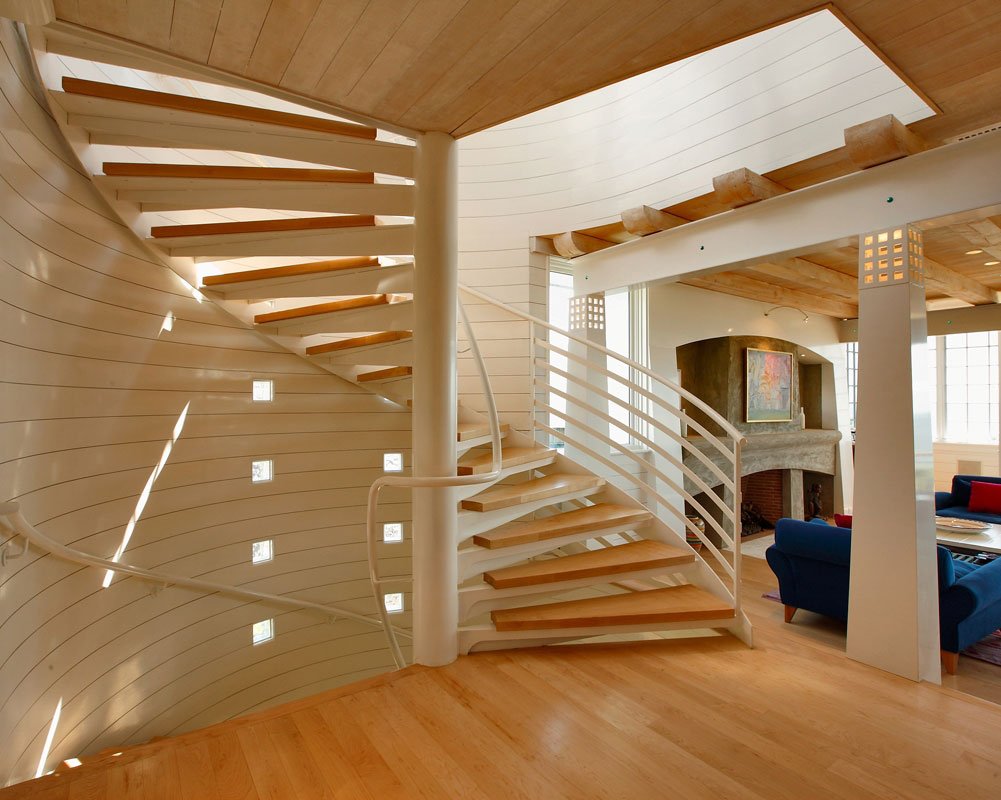 When you have the opportunity to build a custom waterfront home, you have the power over the detail, design and "theme" of the home–whether it be coastal, modern, or something else entirely.
Home Library as Focal Point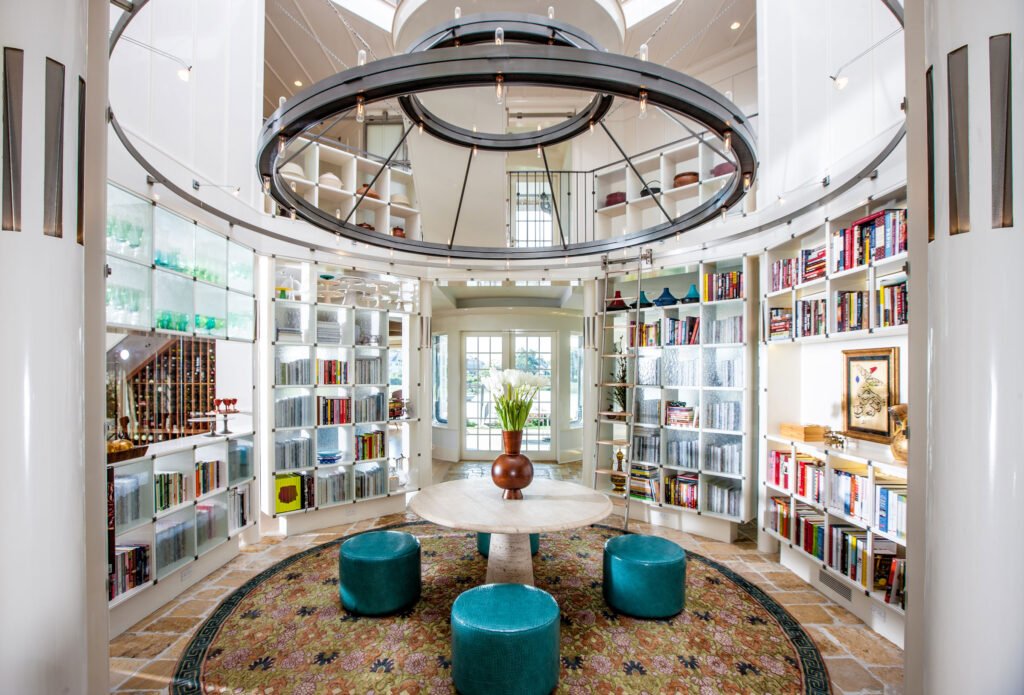 Custom homes do not have to solely represent the natural environment that surrounds them; homeowners have the freedom to design their homes to honor their interests, their culture, and their lifestyle.
This house in Greenwich Cove is organized around a glazed octagonal court that serves as a library displaying collections from the owner's extensive travels. The client, who originates from Turkey, wished for the room to center around a great chandelier that resembled those commonly seen in old Istanbul mosques.
It's a reminder that you don't always have to bend your ideas and wishes to fit an existing home's structure. When you dream up a custom home, you have the ability to design its layout in a way that honors your interests, recalls your roots, and suits your creative endeavors.
Discuss Your Custom Home Ideas With Christopher Pagliaro Architects
With intentional planning, design, and execution, you can build a home that celebrates your past and nurtures your future. By working with the experienced architects at Christopher Pagliaro Architects, you can transform your grand dreams of a custom home into a reality. To schedule a consultation with the team, call us at 203.838.5517 or fill out the form below.
Want to Learn More About Waterfront Architecture?
Hallmark of a Christopher Pagliaro Architects project is the marriage of the structure and site to create a sense of place. To get started on your waterfront home project, get in touch with our team today.