We have made no secret of the fact that we are not fans of the term "Modern Farmhouse" because we do not believe that it is "modern" or a "farmhouse"— but mostly because too many designers believe that to be a "Modern Farmhouse" the requirements lie solely in the materials and colors. The trend has taken the design world by storm. It's a style that attempts to strike a balance between the warmth of traditional farmhouses and the sleekness of modern design. However, when done without the proper technique, it can come off as outdated, busy, or worse—gaudy—often failing to place enough emphasis on scale and proportion and foregoing the requirements of mass to accommodate spatial needs.
When you choose the right team for your modern farmhouse design you can rest assured that your timeless project will not be another passing trend, instead bringing you endless years of joy. Below, the luxury home architects at Christopher Pagliaro Architects outline a few ways you can get it right.
When done right, modern farmhouse design can be as practical as it is aesthetically pleasing.
Put Aside the Trends and Embrace Modern Farmhouse's Simplicity
What do you think of when you think of the term 'modern farmhouse'? Is it white siding and naturally grayed barn doors? Clean lines and a lot of black shutters? These pictures of what most believe to be a modern farmhouse are generally abused as a matter of describing what people thing are "farmy" but the design ultimately comes down to modernizing simple farmhouse style.
While these may be popular trends, black windows and white siding do not a modern farmhouse make they are simply Halloween costumes placed on top of other design styles. We believe that the heart of the quintessential modern farmhouse style actually lies in a celebration of simplicity.
Rather than filling a space with the latest in modern farmhouse chic decor, make your design shine through in natural materials and textures, reclaimed wood, and exposed beams to infuse your space with rustic authenticity. A subdued and neutral color palette—think earthy or monochromatic tones as accent colors—can evoke a sense of calm and serenity.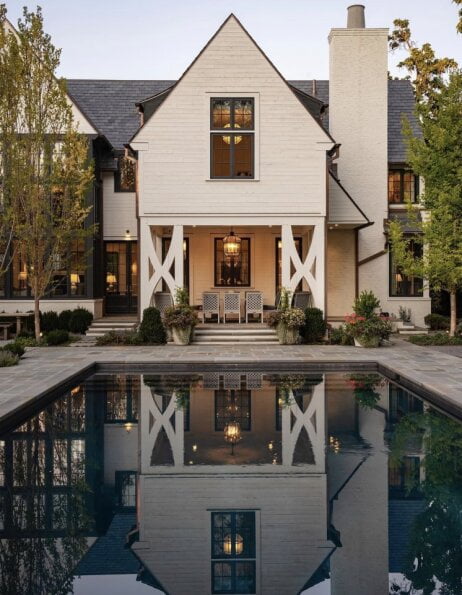 To achieve a successful rendition of the "modern farmhouse" style, we must first grasp the significance of proportion, scale, and the interplay of elements. In this design approach, both the "modern" and "farmhouse" aspects embody the essence of simplicity, slenderness, ratio, and proportion. Maybe instead of high-contrast black window frames or chasing a barnyard aesthetic, the home is perfectly scaled, well-proportioned and uses materials that reinforce what an older farmhouse would be?
It may come as a shock but these materials may be as simple as white siding that doesn't force a theme through window color, red siding, or even stone— all with a simple shed roofline and appropriately scaled shutters. These principles ensure that the overall composition harmonizes seamlessly, creating a visually appealing and cohesive aesthetic with good bones as the central foundation of the design.
Find a Luxury Home Team That Knows How to Merge Old and New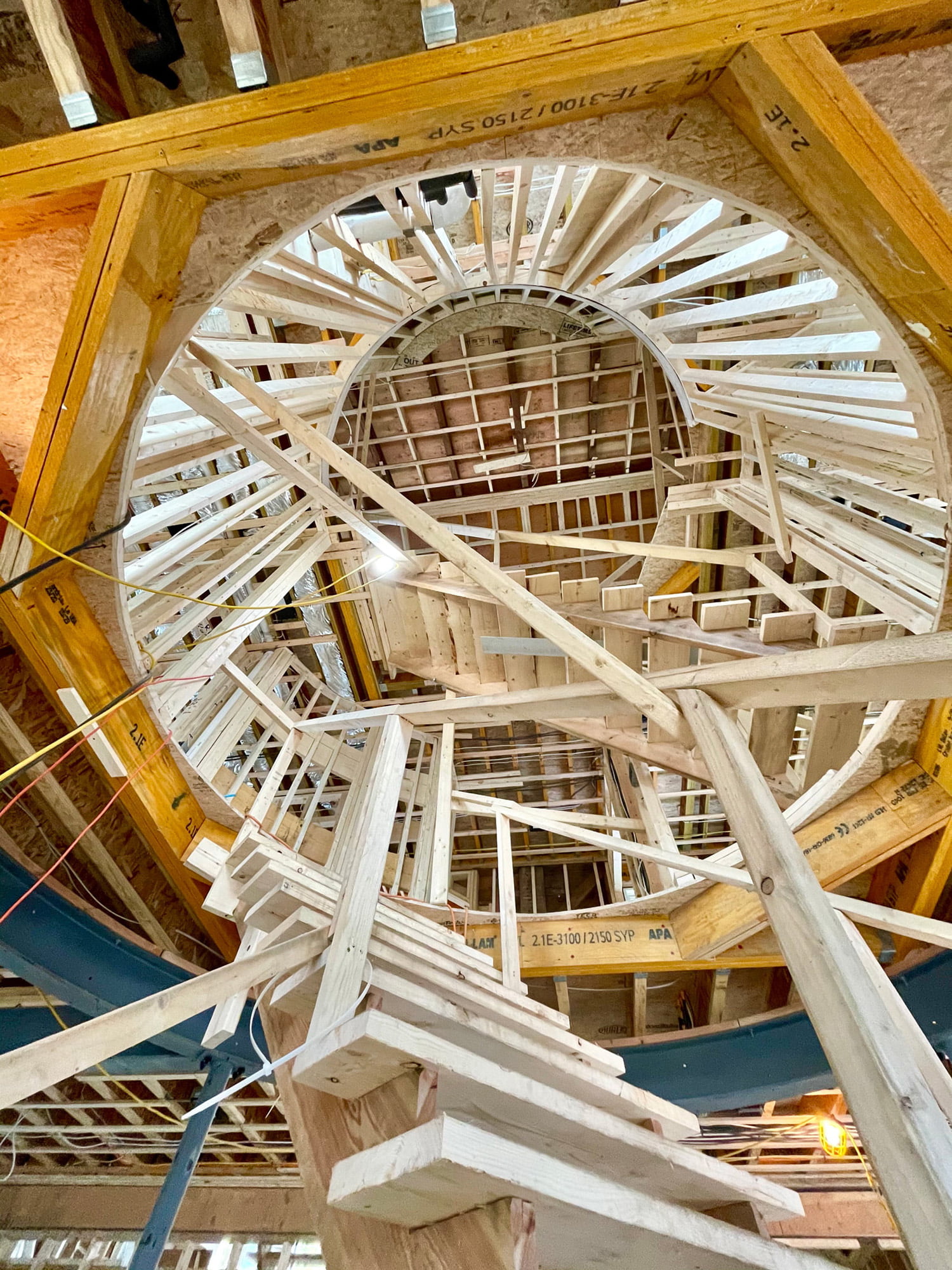 A successful modern farmhouse design strikes a harmonious balance between old and new elements. Rather than fill your home with dime-a-dozen farmhouse chic decor, find a team that can carefully curate one-of-a-kind furnishings.
Blend vintage pieces with modern furnishings to create a curated yet comfortable atmosphere. Think antique farmhouse tables paired with contemporary chairs or repurposed barn doors juxtaposed with sleek, minimalist hardware that is easy on the eyes. Our team works with incredibly talented interior designers who can capture this balance in our modern farmhouse new builds.
It's key that you hire an architectural team that has the experience to back up their plans. You want to ensure that your architect has experience with modern construction styles and aesthetics.
At Christopher Pagliaro Architects, our team is made up of seasoned architects who have designed award-winning projects. While many of our team members specialize in custom luxury homes, we have designed boundary-breaking new homes on an international scale. Learn more about our team and experience to determine if our architectural firm is a good fit for you.
Focus on Functionality in Your Modern Farmhouse Design
When done right, modern farmhouse design can be as practical as it is aesthetically pleasing. The right architect emphasizes functionality by incorporating ample storage solutions, practical layouts, and efficient use of space. For example, open shelving in the kitchen, versatile furniture pieces, and built-in storage systems maintain a clutter-free environment free of busy distractions.
If you're considering working with our team to design the modern farmhouse of your dreams, take a moment to journey through our portfolio to see if any projects pop off the screen for you.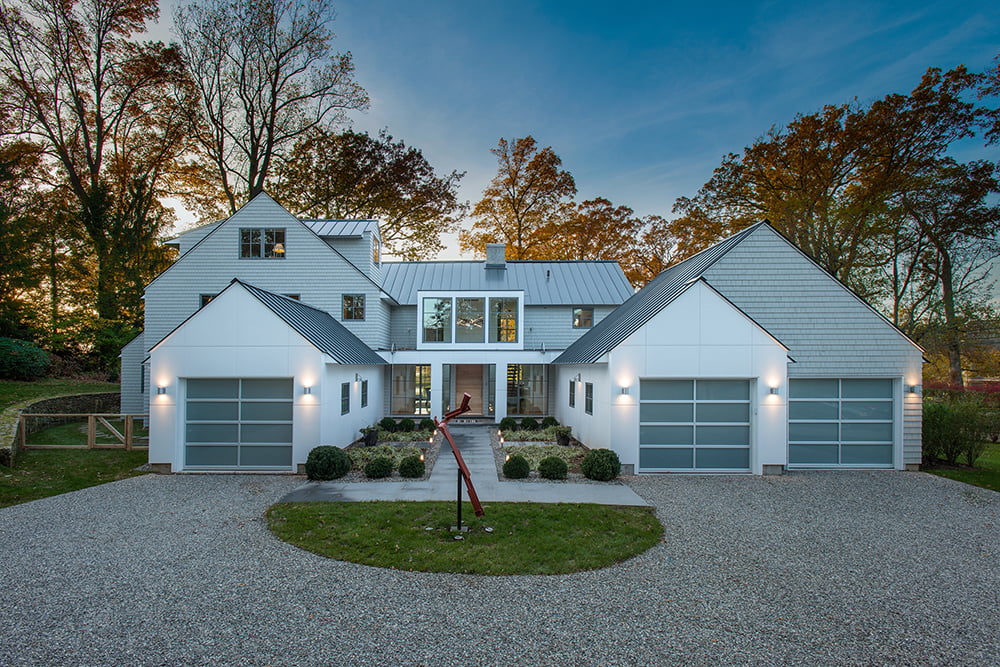 Connect with Nature and Bring the Outdoors In
Incorporate elements that connect your modern farmhouse design with the surrounding natural environment. Large windows, French doors, and skylights allow ample natural light to flood the space, creating a seamless transition between indoors and outdoors.
At Christopher Pagliaro Architects, our philosophy is simple. We believe that all homes should enhance, as well as reflect, the complete context within the environment. That means architecture should inspire and originate structures that maximize the natural light around us and its effect on space, form, and function. We believe in spaces that merge the exterior with the interior, drawing on breathtaking natural landscapes through ample windows that maximize the view.
If you believe that your modern farmhouse home should reflect the natural scenery around it, you would be a great match for our firm. Learn more about our architectural history and design approach on our philosophy page.
Ask the Right Questions to Your Modern Farmhouse Architect
The modern farmhouse style presents an exciting opportunity to infuse your home with timeless charm and contemporary flair. Our team knows how to strike a delicate balance between rustic authenticity and modern refinement to achieve a space that is both inviting and visually captivating. So, go ahead and embark on this journey, creating a home that reflects your style and love for the modern farmhouse aesthetic.
When considering a partnership, here are some key questions to ask a prospective architect, such as a team member at Christopher Pagliaro Architects:
What is the estimated duration of this project, from design to execution?
Could you explain your design process and how you approach projects?
How frequently can I expect project updates, and what communication channels do you prefer?
Will you personally visit the construction site regularly during the building phase to ensure successful implementation?
These inquiries are just a starting point, as there may be numerous other questions specific to your project that must be addressed. At our firm, we prioritize working closely with our clients, ensuring their projects are meticulously tailored to their unique needs and lifestyles.
We aim to foster a strong client-architect relationship based on open communication and shared vision. We don't rush projects because we want to get them right from the start, and as Chris would say, "Your job is to create the problem. Mine is to resolve it for you." We want to be your architects and your advocates.
To learn more about how we manage the design and construction phase, read our recent article: What to Expect When Working with Christopher Pagliaro Architects.
You can also learn more about our detailed design process here for information about how we approach each step, from early design to construction administration.
Want to Learn More About Waterfront Architecture?
Hallmark of a Christopher Pagliaro Architects project is the marriage of the structure and site to create a sense of place. To get started on your waterfront home project, get in touch with our team today.